A pedagogical expertise
to enhance your skills
Our training know-how has enabled us to develop a specific pedagogical method based on practice and used by all our trainers.
Our method is built around 2 pillars: the expertise of the trainer and the analysis of the participant's need.
Methods specific to IT training
The topics dealt with during a computer training are approached in an evolutionary way, from the simple to the more complex.
To improve the effectiveness of training, each point of contents is thus subject to an explanation, a demonstration and an immediate implementation.
Thanks to our active method, the learners will put the learning subject into practice in directed exercises, thus promoting the retention of information by execution. These exercises are systematically corrected so that each remaining question or hesitation of the learners can be resolved.
Our trainers are not only experts in the field of computer science that they teach but also experienced pedagogues who will do everything possible to adapt to the specific context and learners of each training session.
Methods specific to soft-skills
Our pedagogical methods are based on exchanges, sharing of practices and experiences, role-play and playful training situations.
Exchanges: Because the richness of soft-skills training resides in large part in the exchanges between participants, our trainers make them their priority.
Sharing practices and experiences: sharing practices and experiences values and enriches the group. Together, we promote the emergence of "best practices".
Exercises: The learning of key concepts is promoted by individual or collective training exercises, always with a plenary restitution.
Situational: Nothing replaces putting into practice in situations as close to the real as possible! Role-playing is the basis of our training.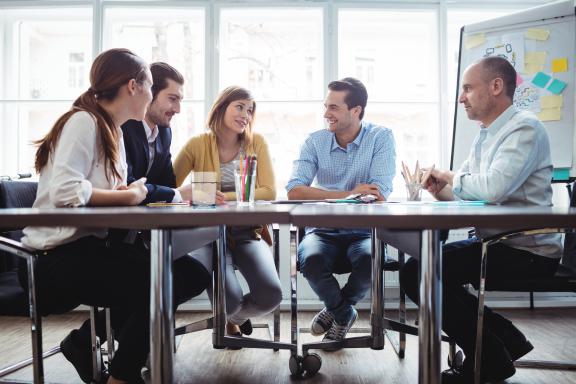 A professional and friendly environment
92% of our clients are very satisfied
with services provided by Key Job.
Our expertise in training has enabled us to develop pedagogical methods based on practice and used by all our trainers.
We have been working with KEY JOB for many years. It is a responsive, professional and available partner. The team is always very attentive to our needs and responds perfectly. We have worked on various topics (Office programs, personal development, soft-skills, management,...) and we have always had very positive feedback on trainers and training content. The rooms are also very nice.